Email Triggers in RankWatch Mach 4.0
RankWatch offers you a way to keep an eye on all your keywords without the need for you to manually track their positions on each search engine you are optimizing on, with Email Triggers.
When a keyword drops a rank, it's usually too late before you realize the loss you have already incurred due to such a drop. On RankWatch, you will be informed about any rank fluctuations on your keywords within matter of seconds by placing pre-established conditions on when you want us to send you these notifications via email.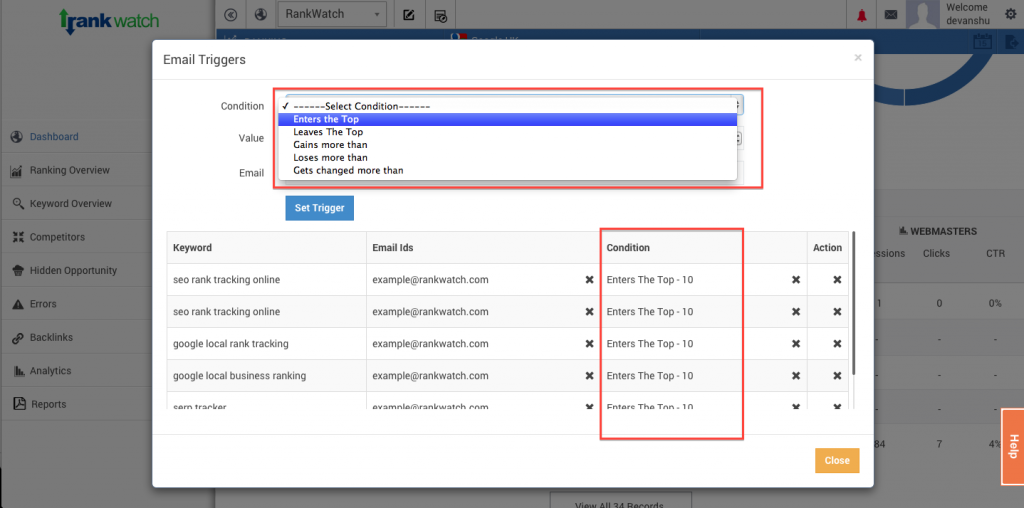 Some of the conditions you can place with Trigger Emails are:
"Gains more than"- This will send out an automatic alert to your email whenever a keyword gains a rank more than the value you place on the Search Engine Results Page (SERP).
"Leaves the top"- For example, if a keyword leaves the top 10 positions on Google UK, it will inform you of such a drop and hence, you can act accordingly and remedy the situation.
"Gets changed more than"- Any keyword that changes in its ranking more than the value you place will be notified to you directly via email in seconds.
How to Set Up Email Triggers?
Step 1 – Check the keywords on which you wish to set up email triggers, you may choose the keywords either via the Dashboard itself and via Ranking Overview Page
Step 2 – After selecting the keywords, click on the button "Trigger Email".
Step 3 – Select the condition you wish to set up trigger for, for example, if you wish to be notified whenever your keyword falls out of the Top 5 Positions, you will select, "Leaves the Top" 5, and enter your email address, this will ensure an email notification if your keyword loses the Top 5 positions.

For more information on Trigger Emails, or if you need any help in setting them up, please contact support@rankwatch.com