Gmail is Down! Google Services go down temporarily for an hour!
Global tech giants just suffered a chink in their armor today, when its internet mail service arm Gmail, used by millions across the world, briefly was taken down due to a service outage.
Google responded to the blip by acknowledging the outage at approximately 11.12 a.m. Pacific Time (19.12 GMT) and stated that an hour and two minutes after the incident service had been restored to some of their user base and it expected a quick resolution for all the users.
It remains unclear what caused the outage that affected users across the globe including India, Britain and the United States and also brought about many a twitter complaints including a tweet by Yahoo Inc, its rival in the internet mail service industry, on the issue, but was followed up by an apology.

The "Apps Status" dashboard, which tracks the state of various Google services shows as following for Gmail –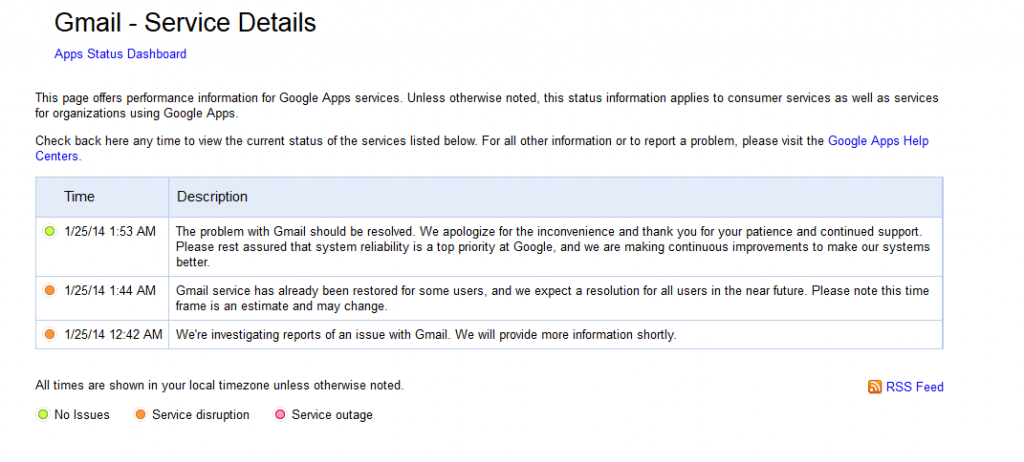 Other Google services such as Calendar, Talk, Drive, Sheets, Groups, Hangouts were also reported to be affected by the outage.
Google users attempting to sign in  saw a "temporary error" message and a brief note: "We're sorry, but your Gmail account is temporarily unavailable. We apologize for the inconvenience and suggest trying again in a few minutes."


It has been reported that any attempts to attain a comment on the issue from Google has not be reverted.