How to Research for a Blog Post?
Writing a great piece of content for a website can be a difficult task. Sometimes it may feel as if every topic has been covered 100 times before. Even if you are passionate and knowledgeable about a topic, there may be so much surplus out there that your brand new, high quality piece of content may never be found in search. In this article, I'll discuss how you can research your topic so that when you are ready to write the piece, it will exceed the competition and rank well.
How to Research the Title for a Blog Post?
Before writing a post you should make sure to have a good idea for the title. To refine the title and create one that will get searched for, I like to use a couple of different tools.
Google Search
Use Google's "suggest" feature to see what has been searched for the most. This will help you fine tune your title into a couple of options which you can then check further using Google Trends.
Google Trends
Judging by these two "suggest" screenshots, "How to do research for a blog post" appears to be the better choice because it appears higher on the suggest list. Just to be sure, let's run these two options through Google Trends.

Apparently there is not enough traffic for these terms to show up in Google Trends. If you come to this point, you may want to reconsider the topic. I am already committed, so I want to see which phrasing is better. To do this I use Google Trends to compare the different elements of each title.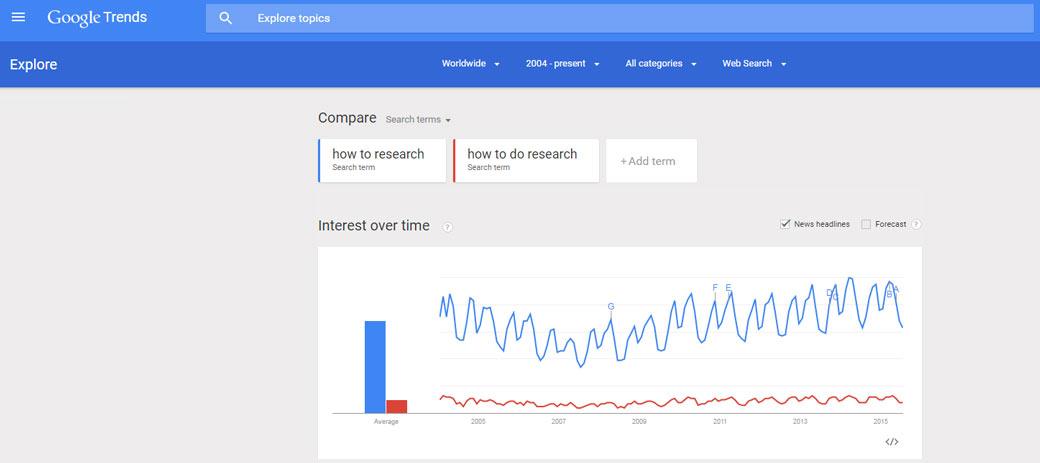 It looks like leaving the word "do" out provides much more traffic. Even though Google suggest looked like having the word "do" in was the correct choice trends shows that there is much less traffic for those types of searches.
Now that we have decided on a title "How to Research for a Blog Post."
Finding Topics to Write About
You may already have a list of topics you want to discuss in your blog post. This just doesn't cut it. If you want your post to rank well, you will need your list of existing topics and a list of topics you have found from other sites that are ranking well.
What I like to do is search for my title term and take a close look at the top five results.  I then review and make sure my piece covers all topics covered in those top five results combined.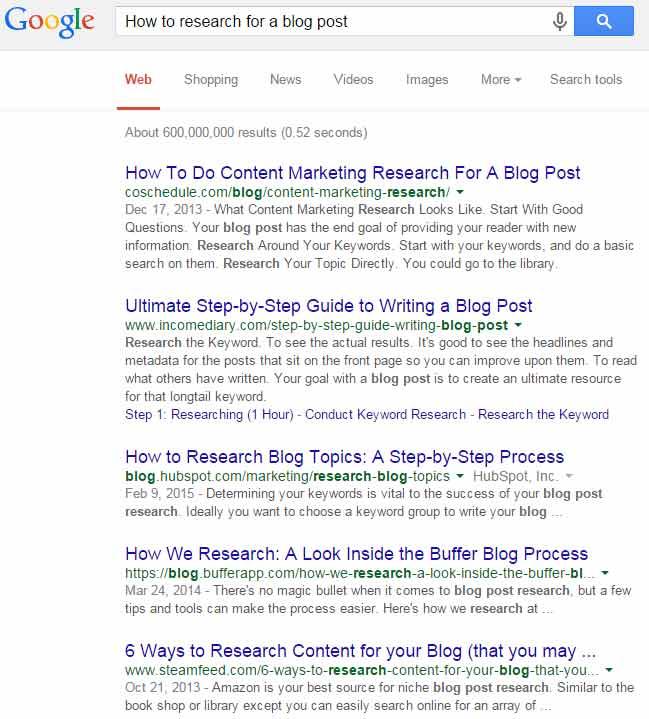 Once you have reviewed these pages, you should have a good list of topics to discuss. Once you have these topics laid out, it's time to start your research!
Research
The most obvious place to do research is on those five pages you are trying to beat. Feel free to talk about the same things, but be sure to add your own knowledge and whatever you do, do not copy and paste their work. I like to do a search for each of the topics I am going to discuss, and then look at what ranks well for those topics. Then I pull the key concepts from each of those pages and expand upon it for each section of my post. If you do this correctly, you can have the subsections of your blog post rank well for their section headers.
Interviewing an expert is another great way to find unique information about a topic. The best part of an interview is that it can be turned into content for your blog post. If you skype someone, record it, and put the video in your blog post. If you email an expert a bunch of questions, quote his or her responses in your blog post.
Then there are also always books and our good friend the library. Believe it or not, people who write books tend to know a lot about the subject they are writing about. If you can, read a book or two about the topic. You will know more than most of the competition by the time you are through. You can then quote the books in your blog post, adding even more great content to your piece.
Conclusion
When writing about any topic, it is important to find terms that are commonly searched for. This will allow your blog post to be found. To ensure your post ranks well in search engines, take time and do the proper research to be sure your piece is the best out there.