RankWatch White Label Interface
This is one of the most Awesome features of RankWatch specially for Agencies. With RankWatch's White Label Interface you don't need worry about Reporting any more.
You can have the complete RankWatch Interface Live on Your Own Domain in less than 5 minutes, even if you don't know anything about Code.
Yes, it's that simple & that's not all, You can generate Unlimited Logins for all your client to see rankings of their website only.
That's not all : Your Client Managers can have their own separate logins and can be assigned multiple projects/websites so that they can track daily rankings of their clients and take the required action immediately.
With RankWatch White Label Interface we have tried to Re-Innovate the "Reporting Process" completely by building a Virtual Layer completely White Labeled giving Agencies full access of RankWatch Technology & Infrastructure on their Own Domain.
A quick view of RankWatch Interface.
Login Page: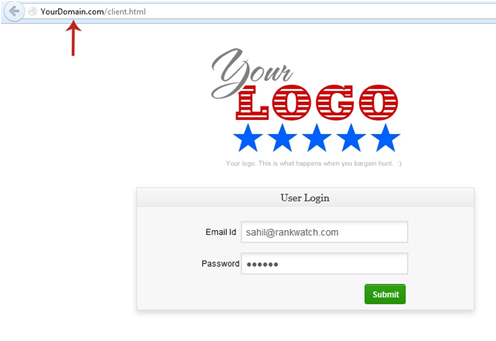 Dashboard: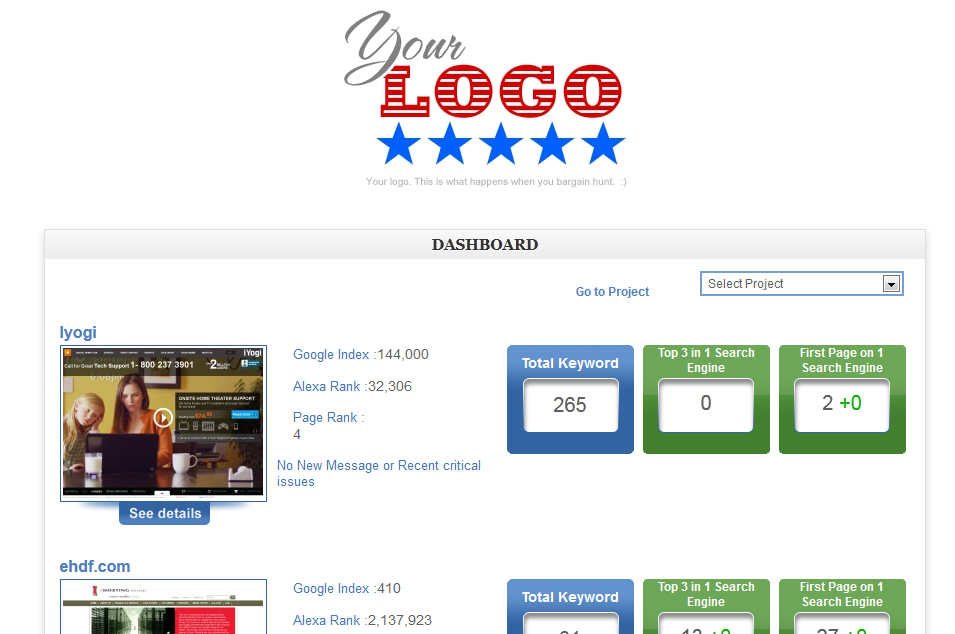 Start your Free Trial now !!!
How to Setup & Use White Label Interface!!
Adding & Managing Projects
Step 1: Go To Manage User (http://rankwatch.com/myapis/manage-user.html)
Step 2: Enter an Email ID, Password & Confirm Password, and click the Add Button. (this Email ID & Password will be used by the your clients or manager to access projects that are assigned to them under Manage Projects.)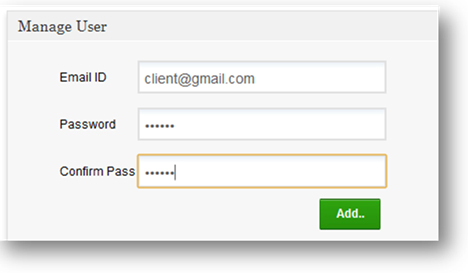 You can always Edit & Delete these details from Action Panel Under Mange User.

Adding & Managing Projects
Once you have added a User (your Client or Manager) you can then assign Multiple or Single Projects to a User.
Steps 1: Go to Add Projects (http://rankwatch.com/myapis/add-project.html).
Step 2: Select an Email Id & Project from the drop down menu, and Click Save.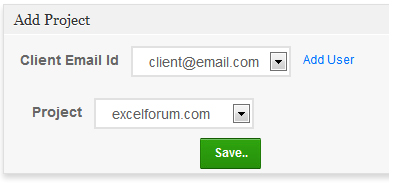 You can always delete an assigned project by simple clicking on the Delete button under Action.

Setting your White Label Interface
Step 1: Go to Assign API (http://rankwatch.com/myapis/assign-api.html)
Step 2: Upload your Company Logo.

Step 3: Copy and Paste the Code to a file and name it anything you want.
eg: client.html


Step 4: Upload that HTML file to your server.
Step 5: Open the file in your Browser. A login Screen will appear, enter any Email ID & Password that you assigned before and Click Submit.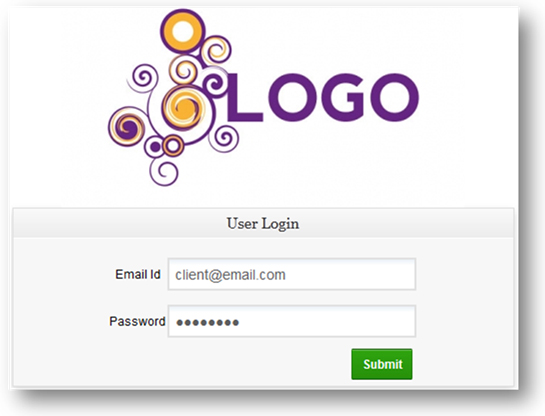 Step 6: You will be redirected to your own White Labelled Dashboard where your client or manager will see only the projects that were assigned to them previously.